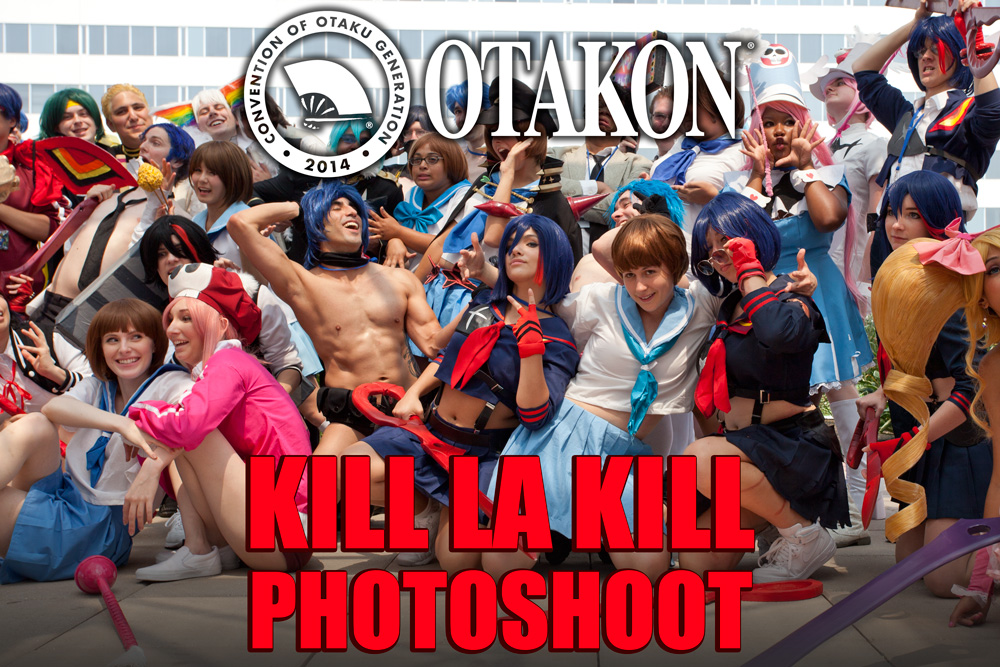 One con that I've always wanted to go to was Otakon, and this weekend I finally got the opportunity to attend! Today we're going to start with a post dedicated to the Kill la Kill photoshoot / meetup since there's a ton of pictures. Anyone who follows me on twitter/tumblr knows I'm a huge Kill la Kill fan, so it was an awesome experience to attend the Kill la Kill photoshoot. Enjoy!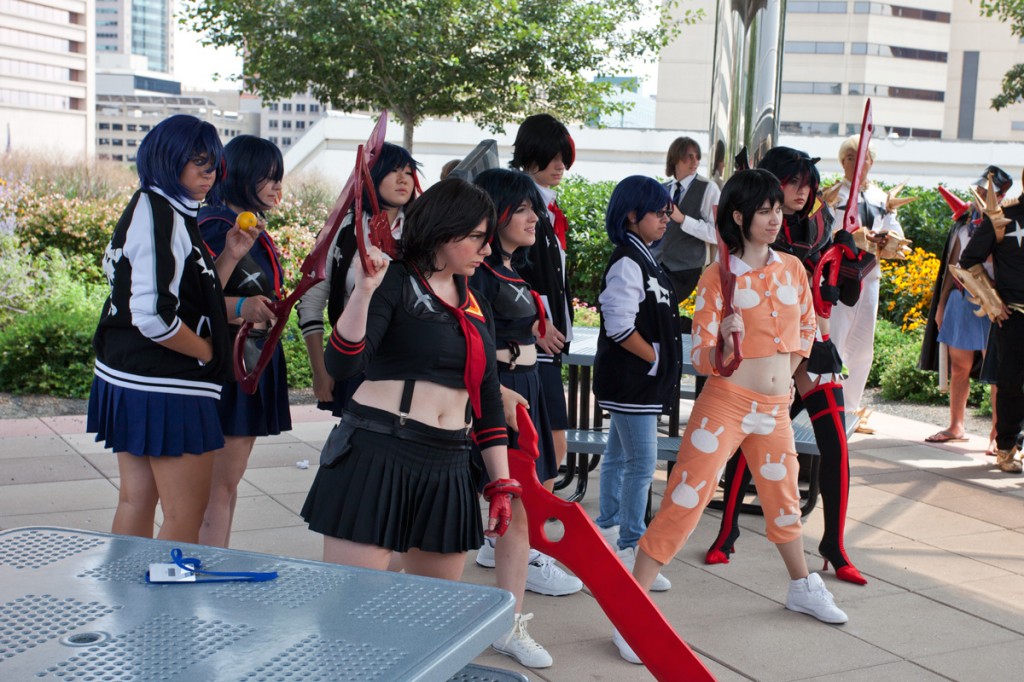 One of the great things about Otakon is all the spacious outdoor terrace they have which makes for a great place to do cosplay pictures. This is where the meet started up! Up first are the Ryuko cosplayers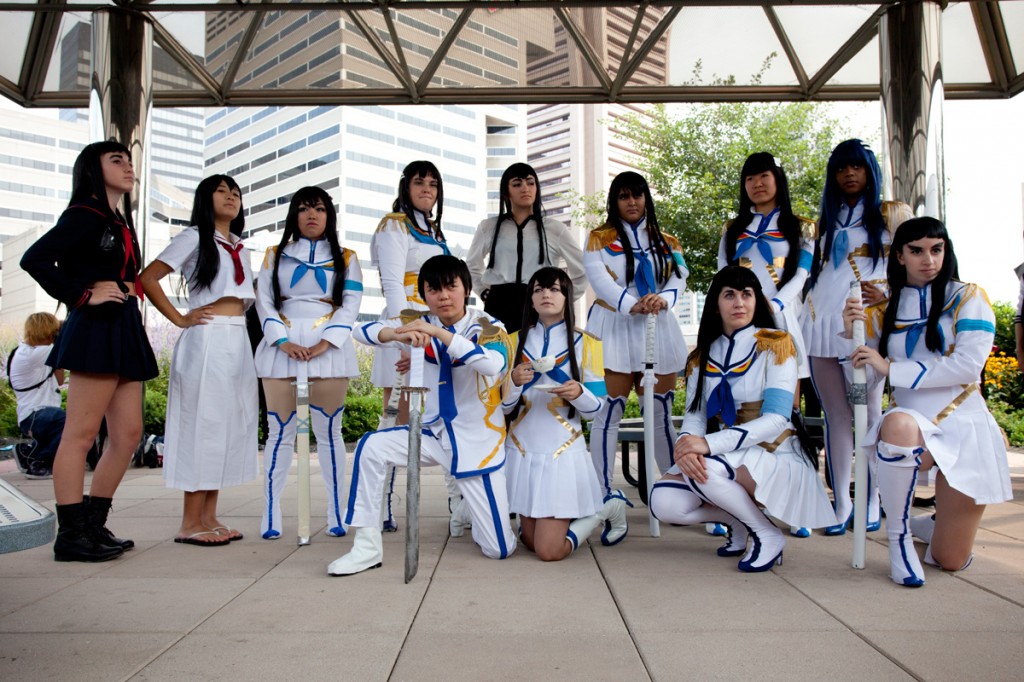 Followed by the eyebrow queen Kiryuin Satsuki!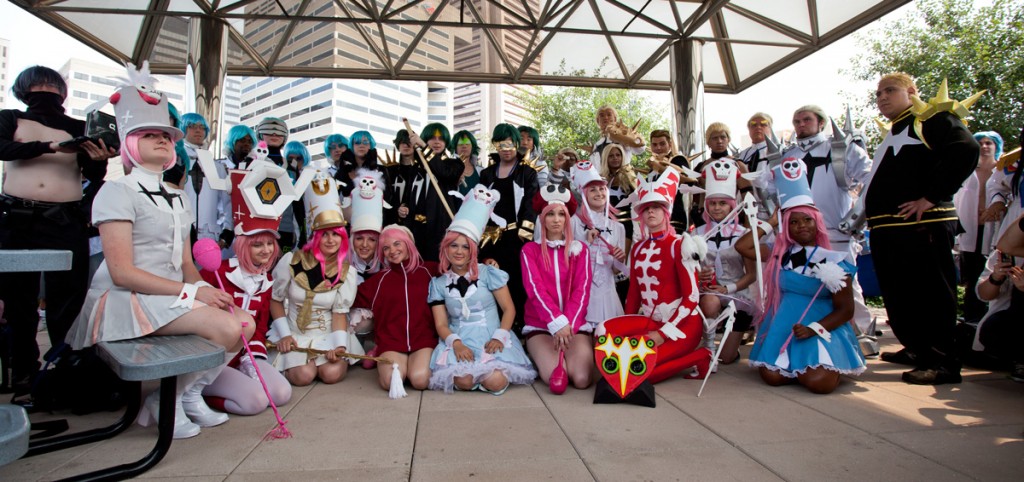 Tons of Kill la Kill cosplayers showed up to the shoot, here you can see all the elite four cosplayers trying to gather in the one corner of the terrace.

Since it was apparent that all of the cosplayers weren't going to fit crammed in the corner of the terrace, everyone decided to move to the other side for some more space. Here we see some lovely Nudist Beach cosplay. Loved the guys in the DTR suits!

The dynamic duo, Ryuko and Mako!
Cosplay courtesy of:
http://envyonfire.tumblr.com/ (Senjin Ryuko, front & center)

The Honnouji Academy crew.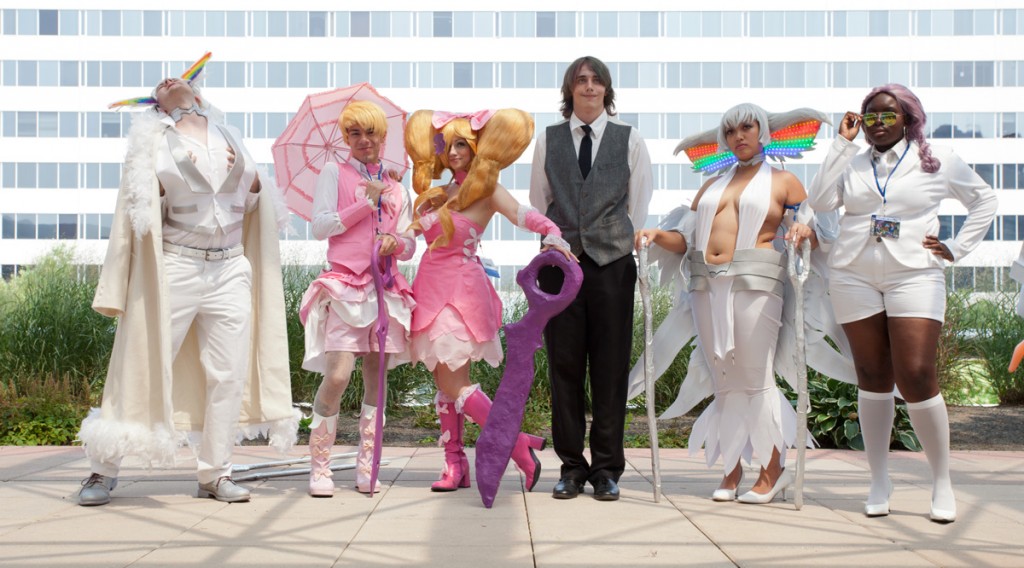 The villans! Loved the light up hair on the Ragyo
Cosplay courtesy of:
http://ohcheye.tumblr.com/ (Nui 3rd from left)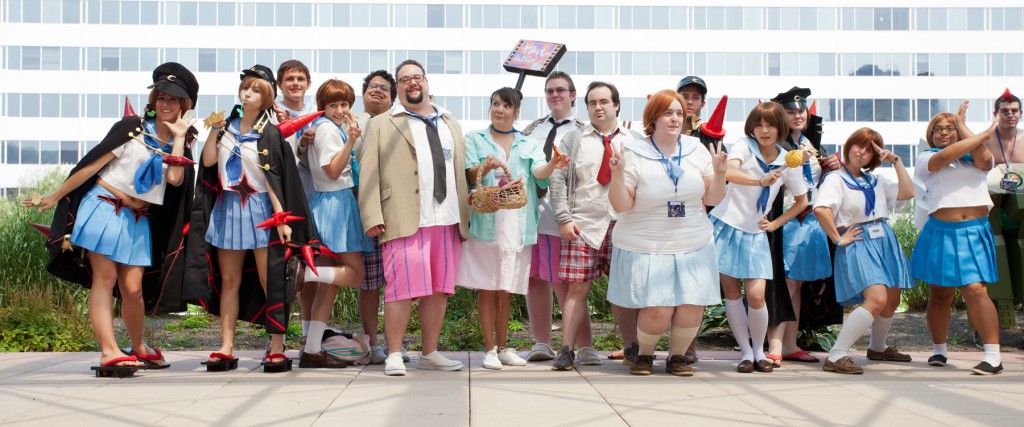 The always lovable Mankanshoku family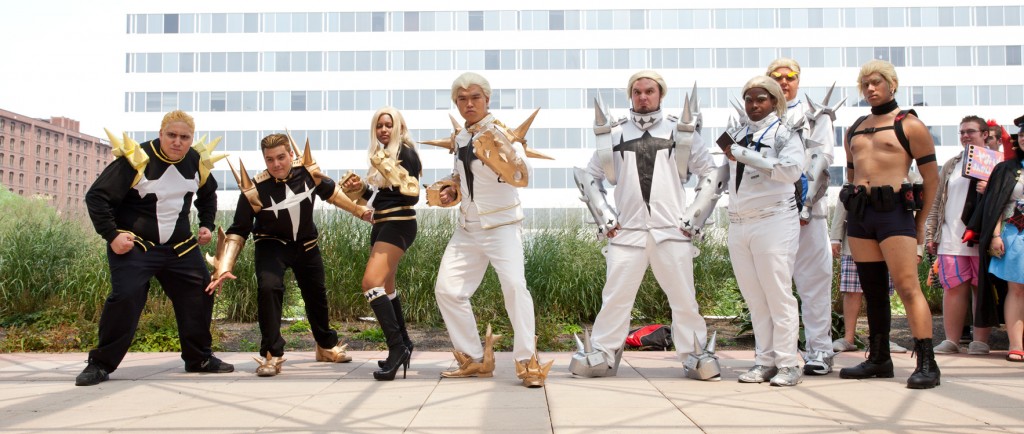 The powerhouse, Ira Gamagori!
Cosplay courtesy of:
Female Gamagori: nothingbutrainbowsandstuff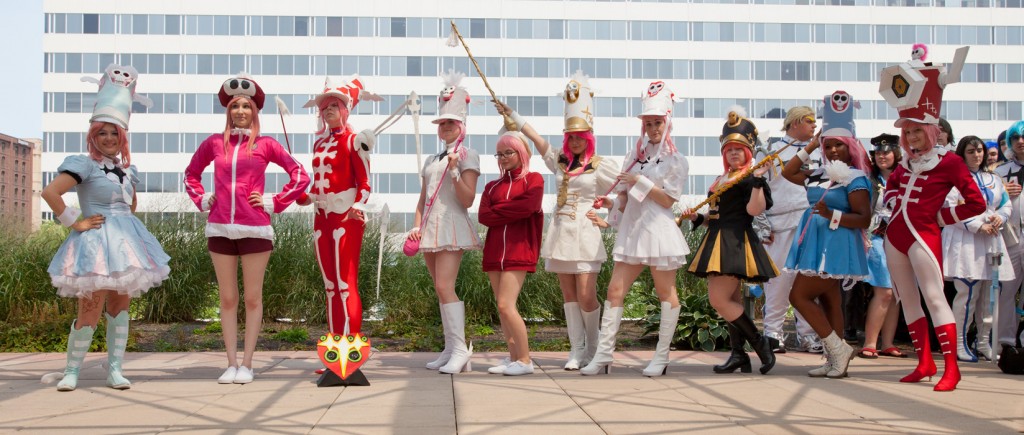 NANI SORE? Quite a variety of nonon cosplay
Cosplay courtesy of:
http://biohazard-bre.tumblr.com/ (Tracksuit nonon, 2nd from left)
http://magical-hobo-cat.tumblr.com/ (Far right)
starscobe (Tracksuit nonon w/ glasses)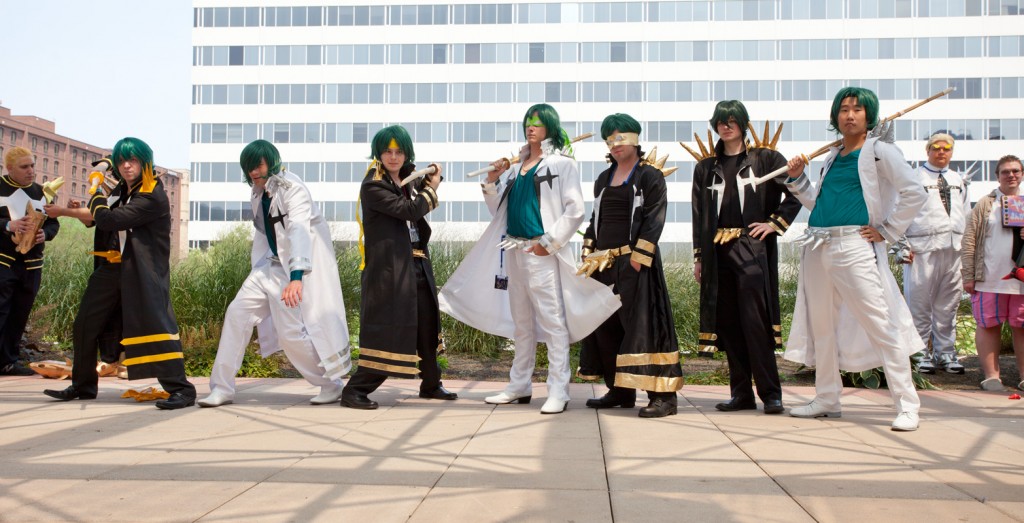 Plenty of Sanageyama cosplay as well
The brains, Hoka Inumuta
Cosplay courtesy of:
http://raebird5.tumblr.com/ (female Inumuta w/ long hair)
http://bradicai.tumblr.com/ (Probe Regalia Inumuta)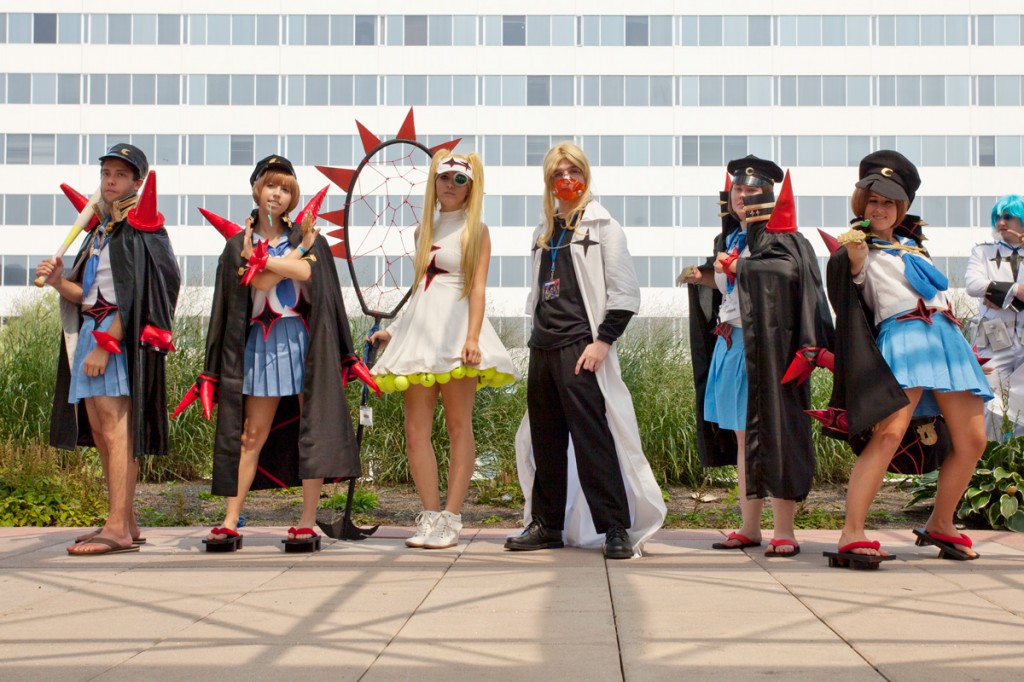 Next up we have the club members. I really loved the Hakodate Omiko Cosplay!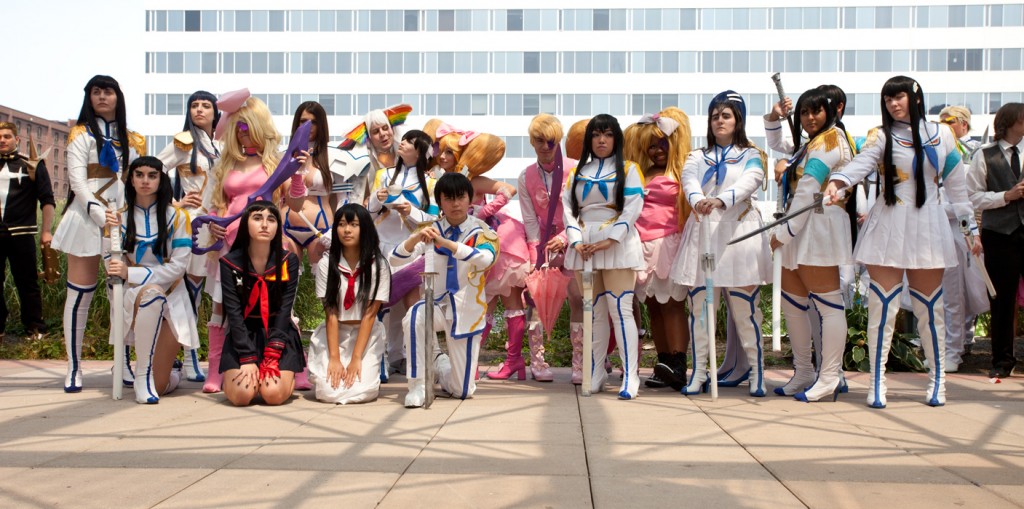 Revocs

Everyone's favorite pairing, Mako X Gamagori!
Gamagori cosplay courtesy of:
http://thenameisru.tumblr.com/ (Gamagori w/ Mako on his arm)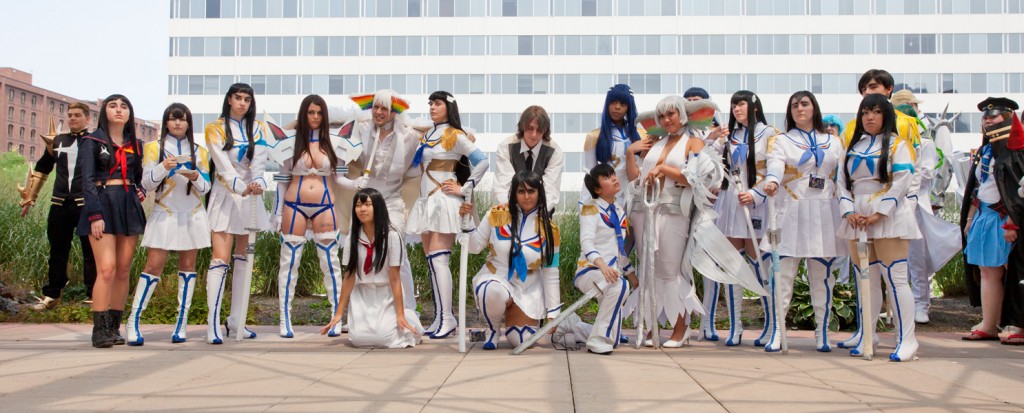 Some quality mother / daughter time

Time for a family photo (Spoilers!?)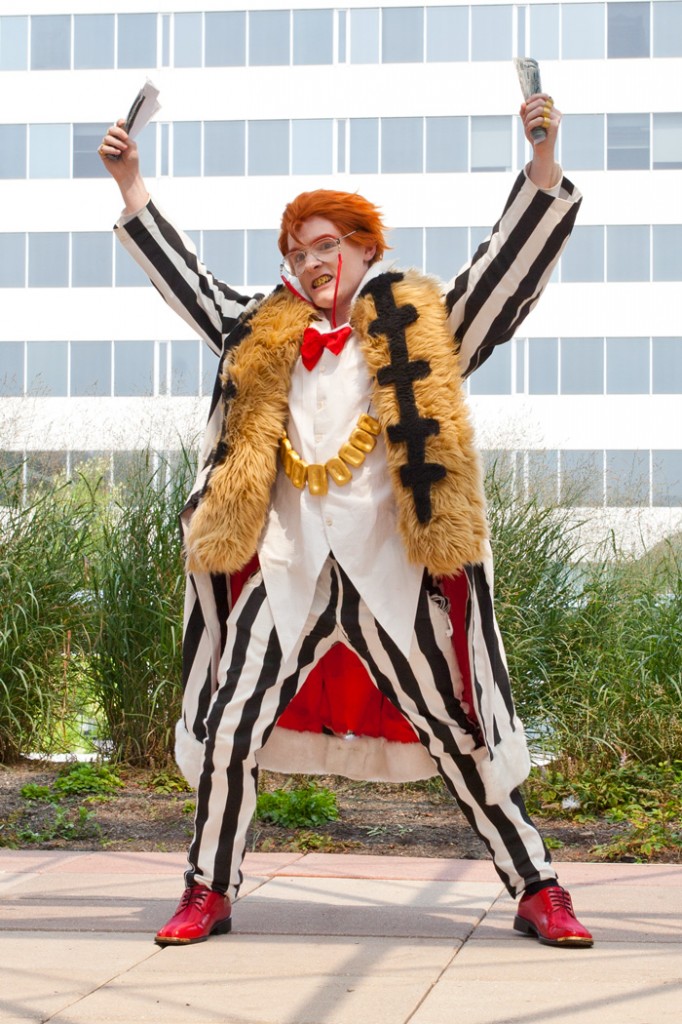 The one, the only, the dosh king!
Takarada cosplay courtesy of: http://arakieatingadonut.tumblr.com/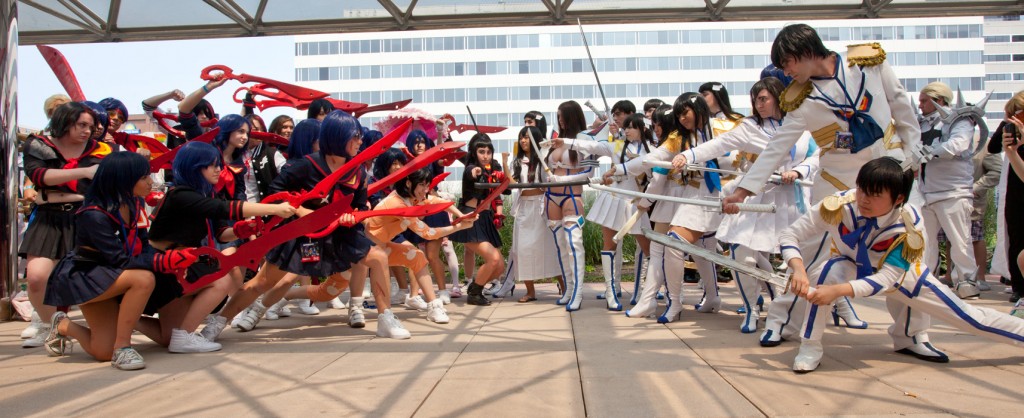 Ryuko vs satsuki

More Ryuko and Mako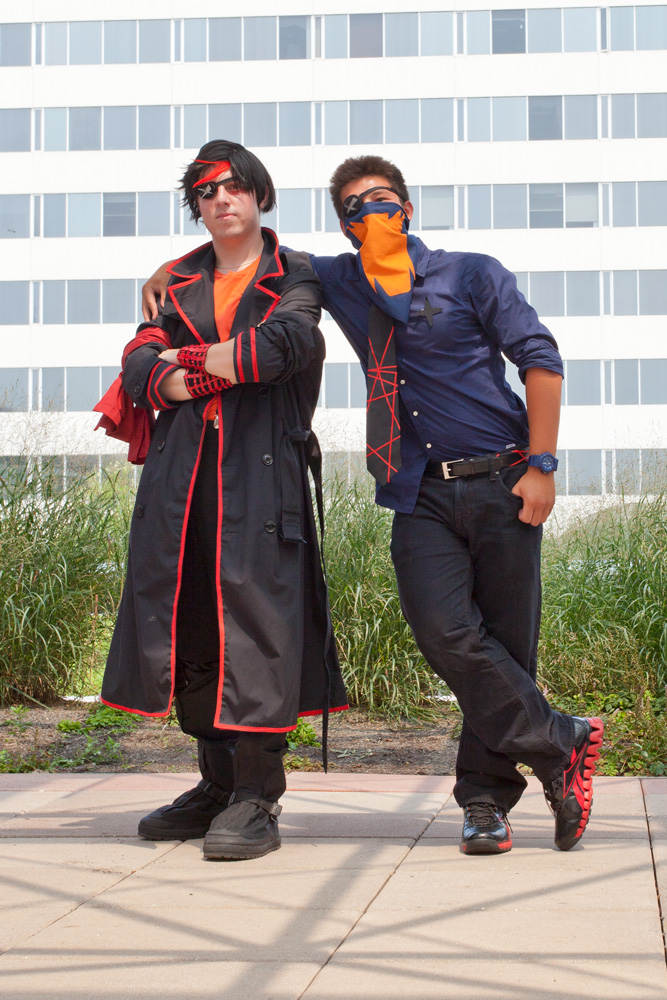 Some unique Senketsu cosplay.

Ryuko and senketsu
Cosplay courtesy of:
Porcelainy Love Cosplay (Pink ryuko)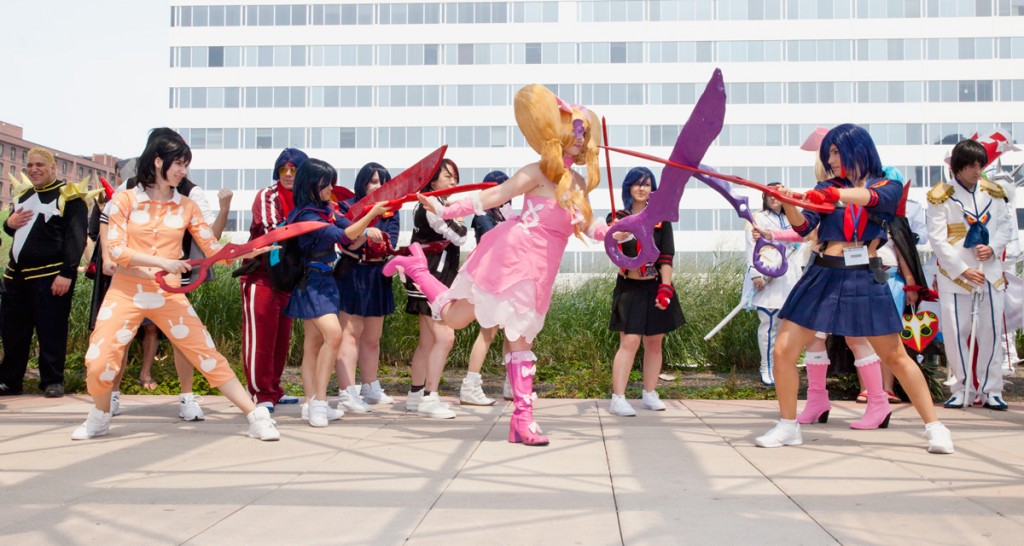 The classic rivalry, Nui and Ryuko!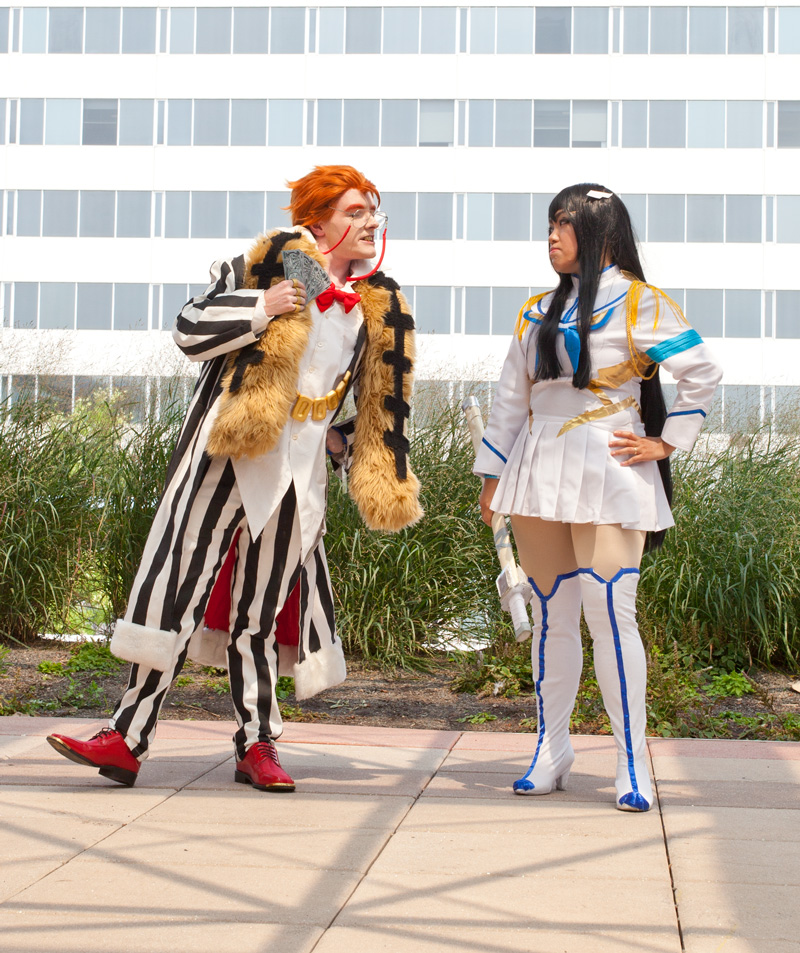 Can Takarada use his loadsamoney to entice Satsuki?
Satsuki cosplay courtesy of: http://k0waiiprincess.tumblr.com/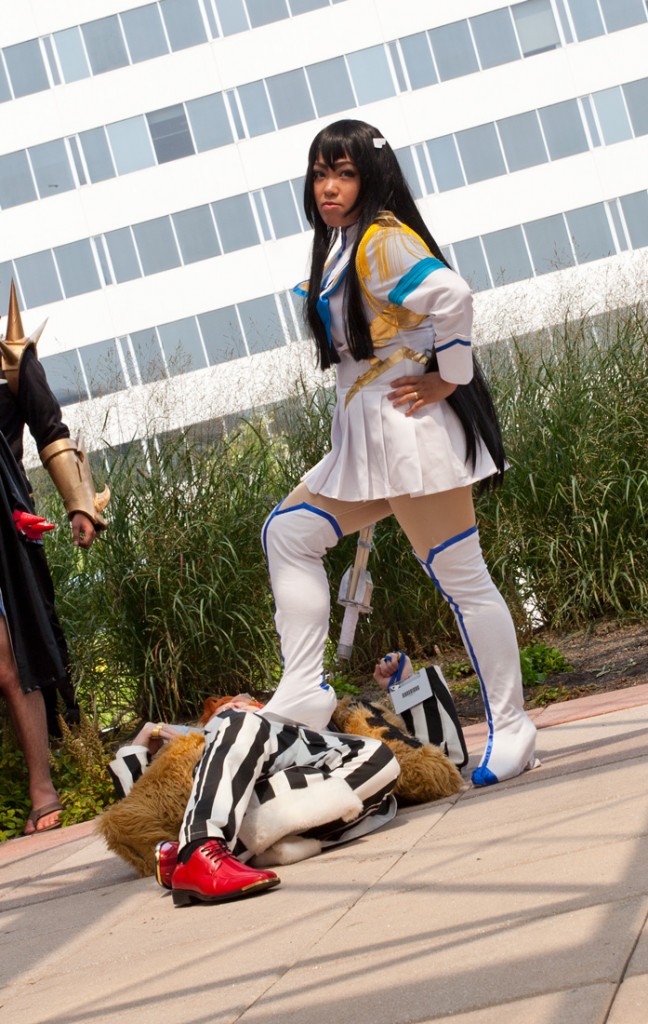 Guess not!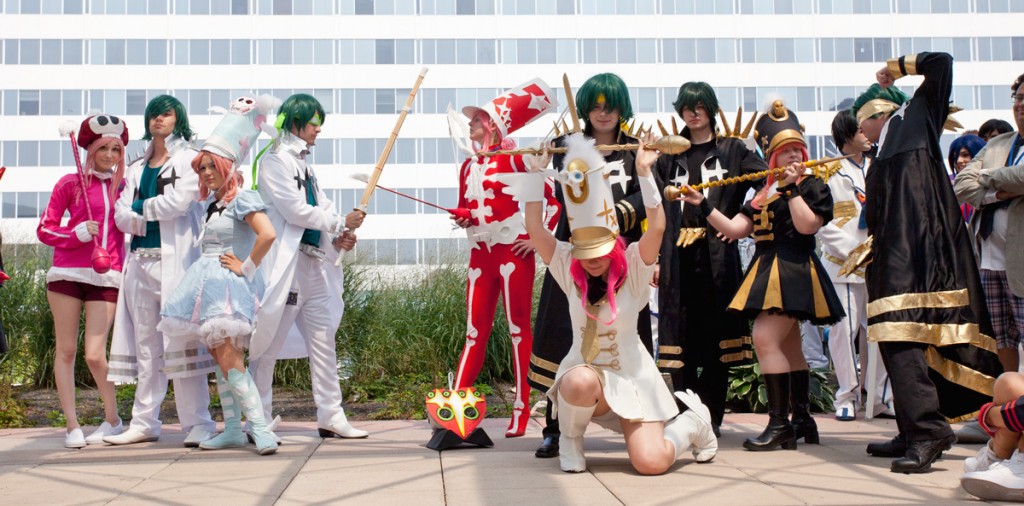 Sanageyama and Nonon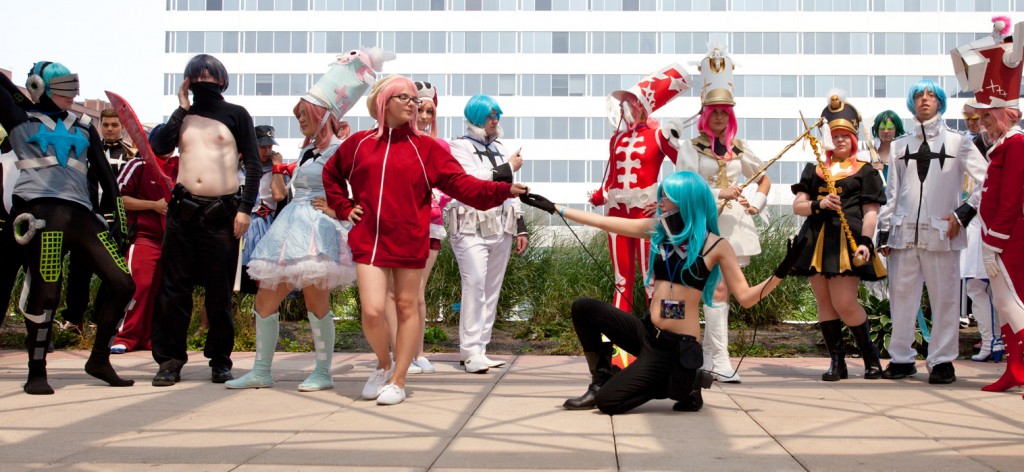 Inumuta and nonon? An unlikely pairing!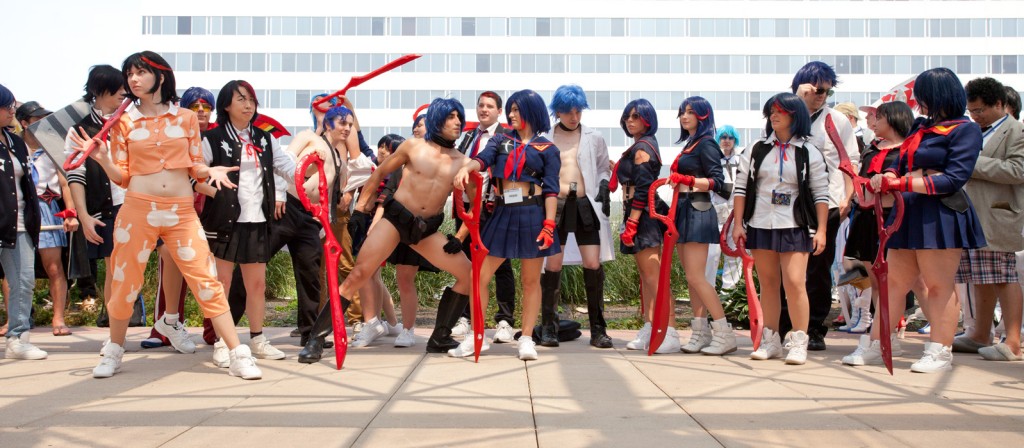 Ryuko doesn't seem impressed by Mikisugi's nudist tendencies.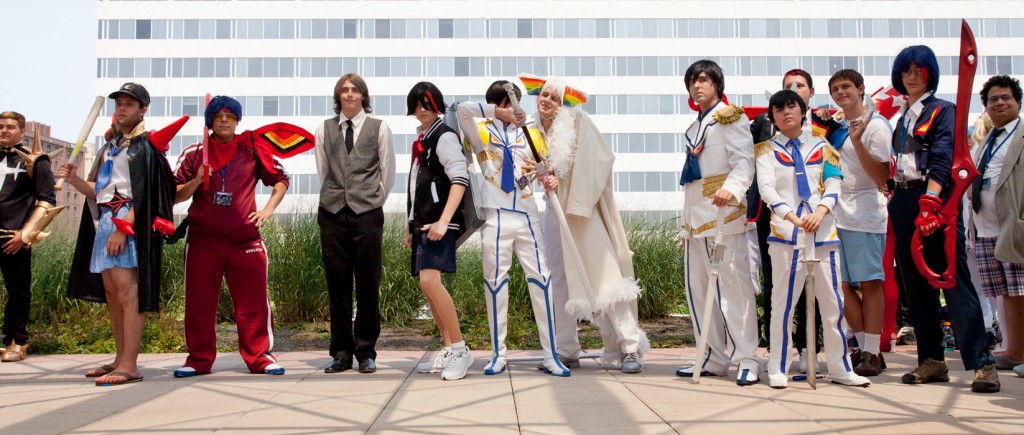 Plenty of genderbending here at the Kill la Kill meetup
Male satsuki courtesy of: http://shikko-sha.tumblr.com/

The childhood friends, Nonon and Satsuki!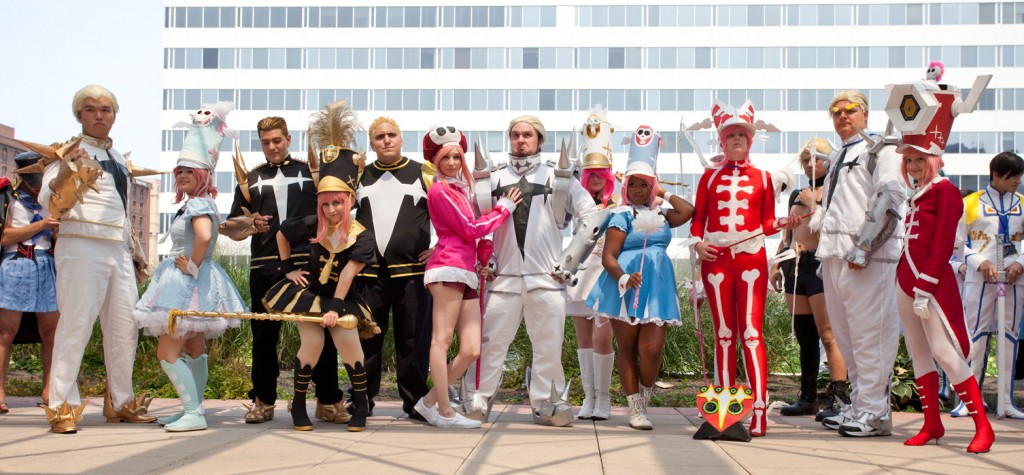 Nonon and Gamagori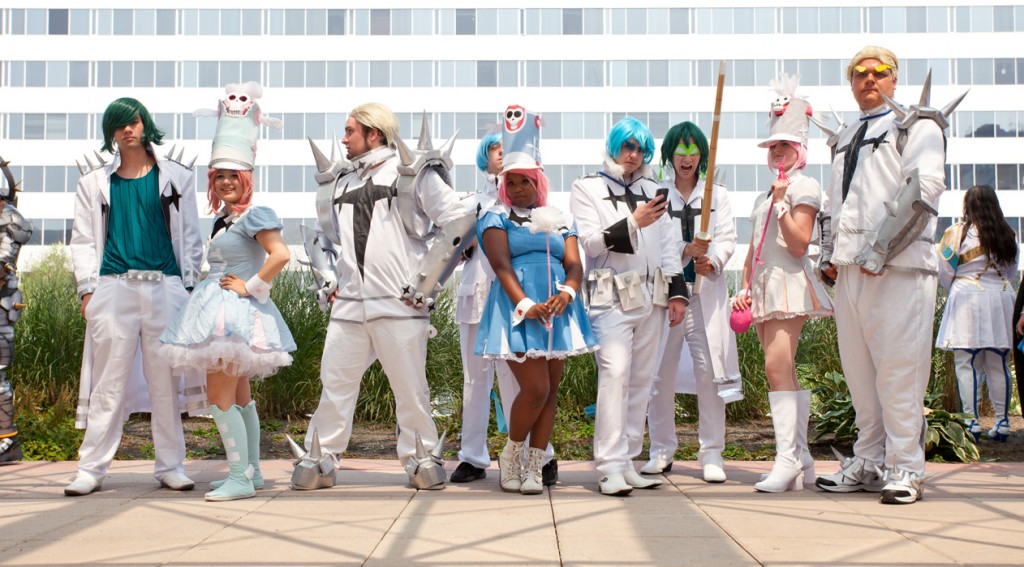 The elite four with their three star regalia MKI…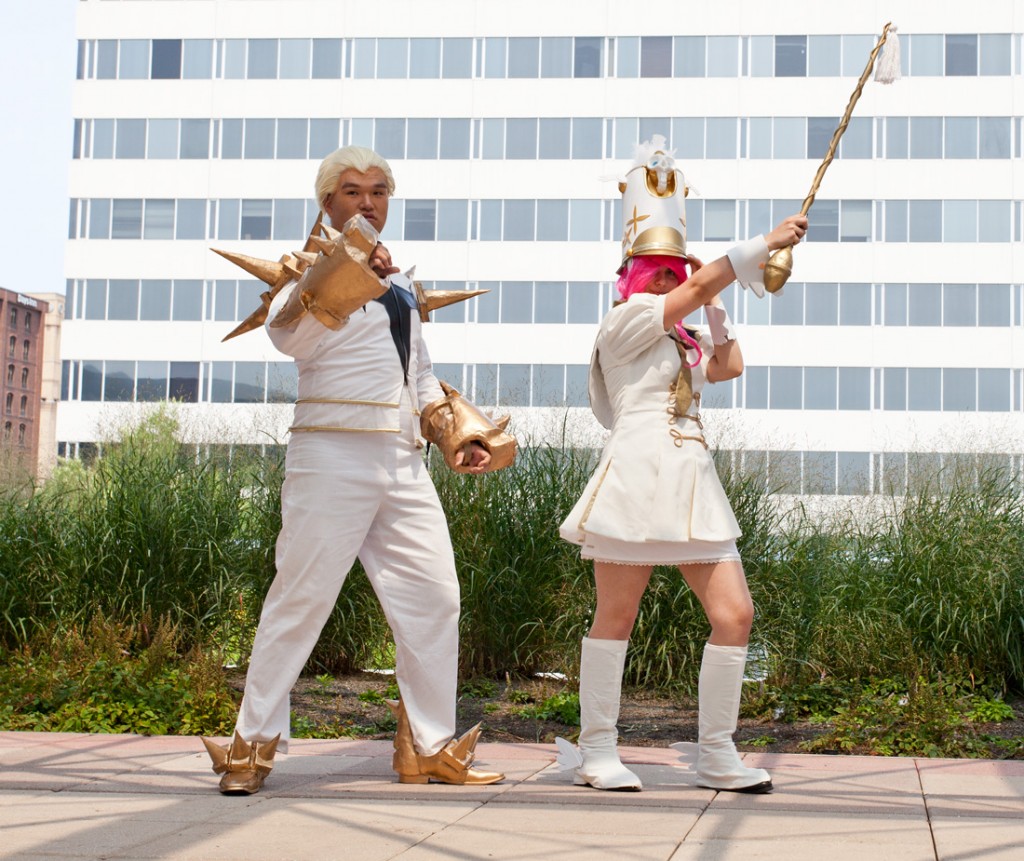 …MKII…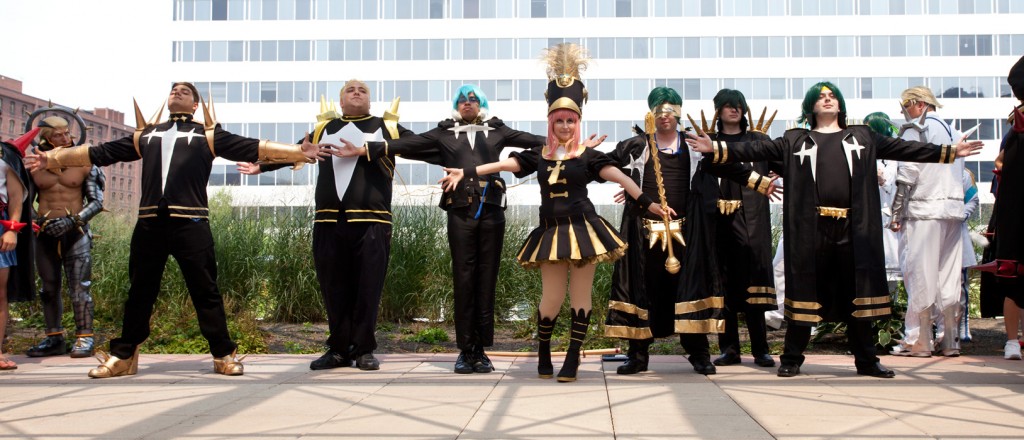 ..and MKIII!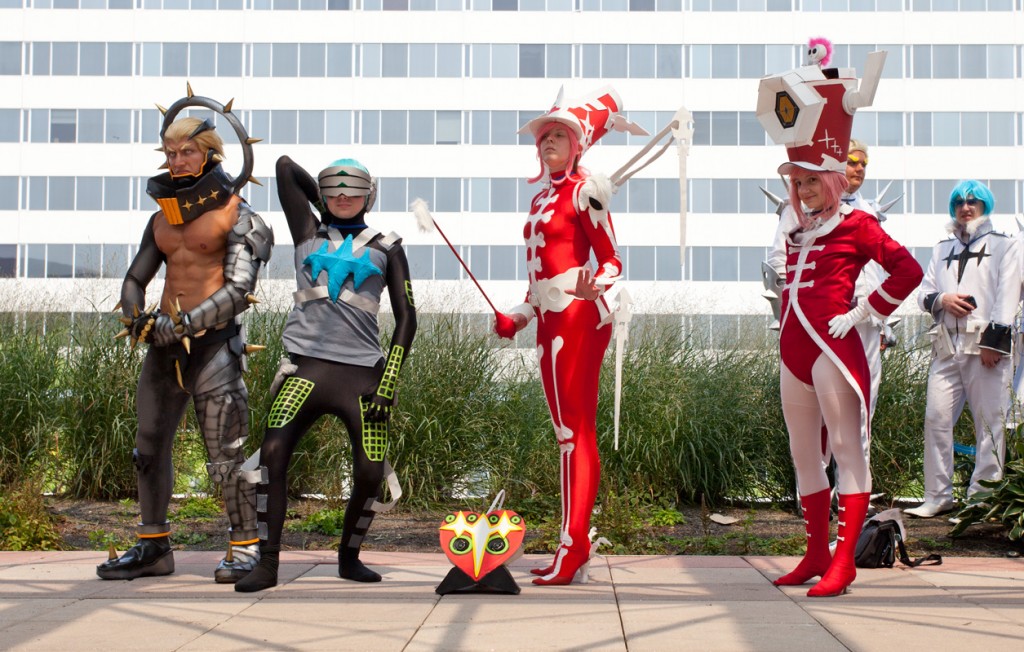 Some of the transformed Goku uniforms. Loved the gamagori one!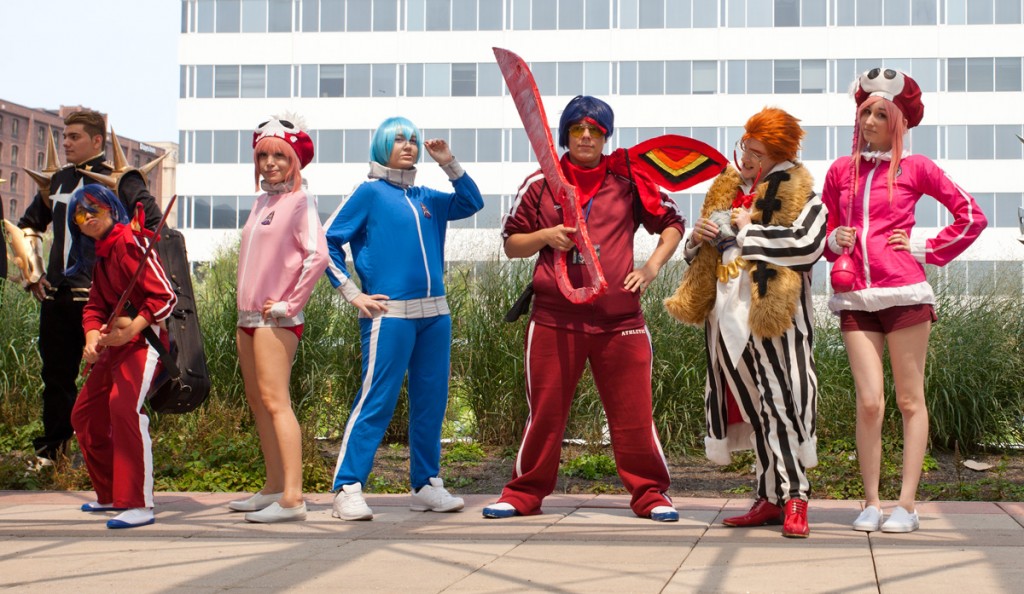 Members from the Kansai field trip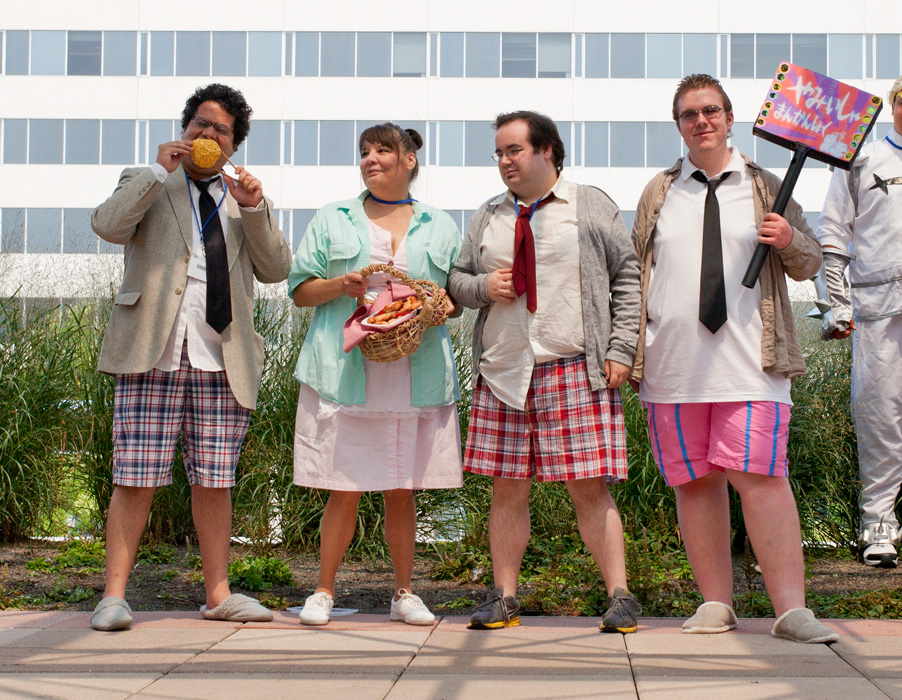 Loved the Mankanshoku mom+dad cosplay!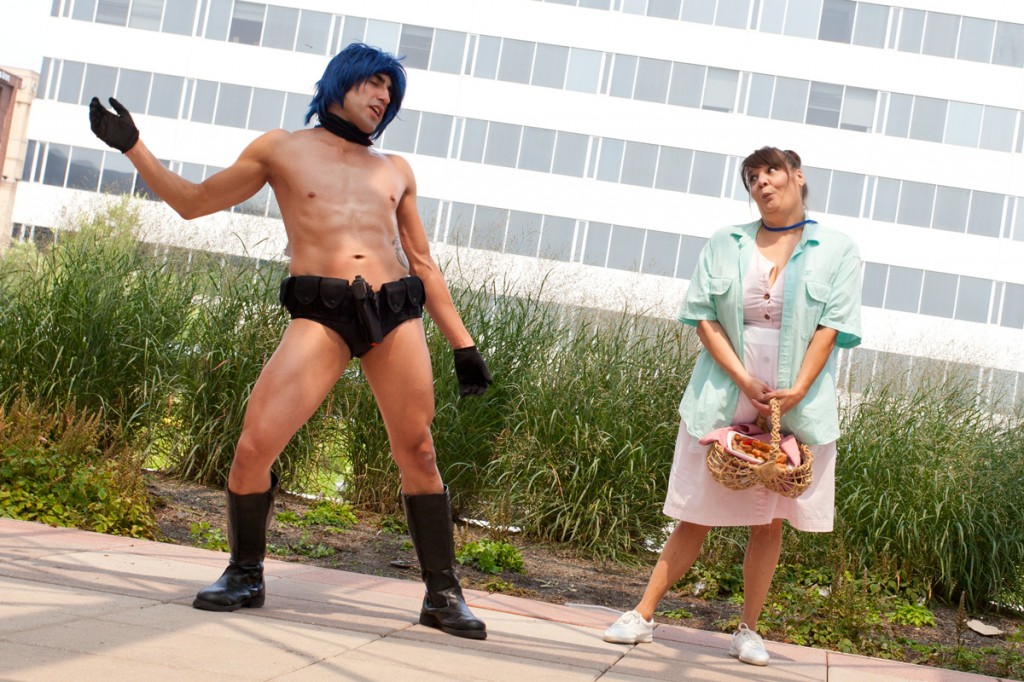 Mako's mom seems interested in Mikisugi's body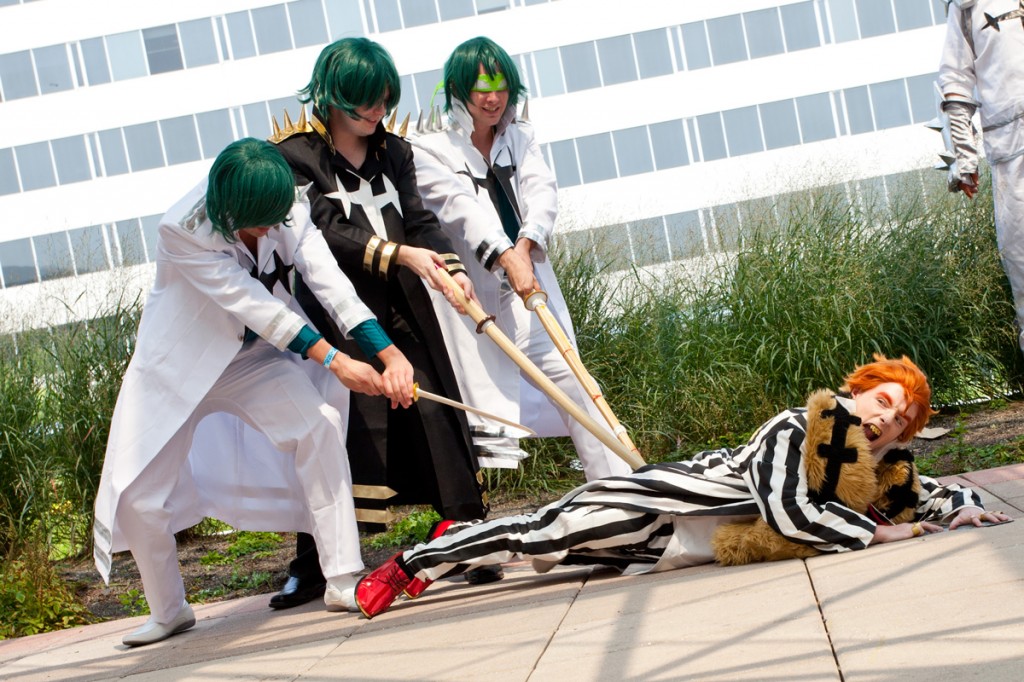 Takarada prepares for his defeat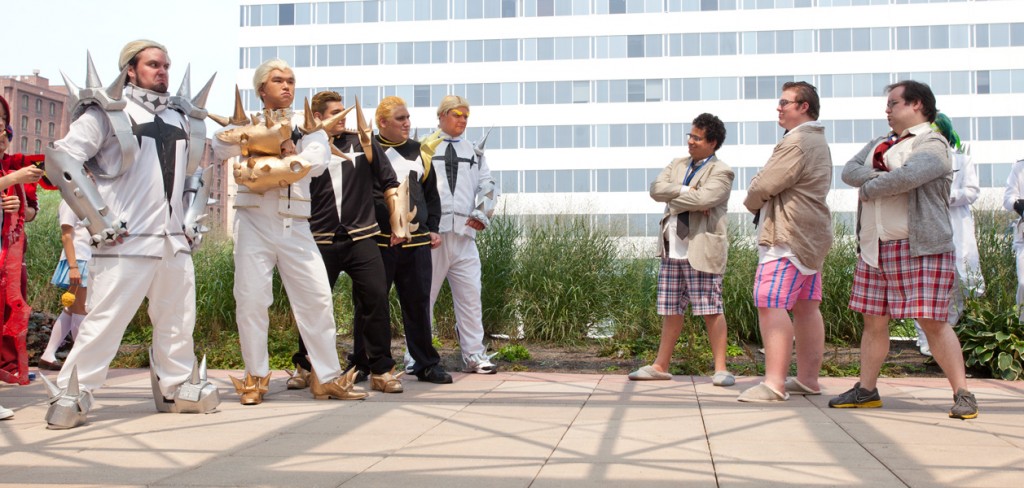 Does Mako's dad approve of Gamagori being in love with his daughter?

Satsuki and Sanageyama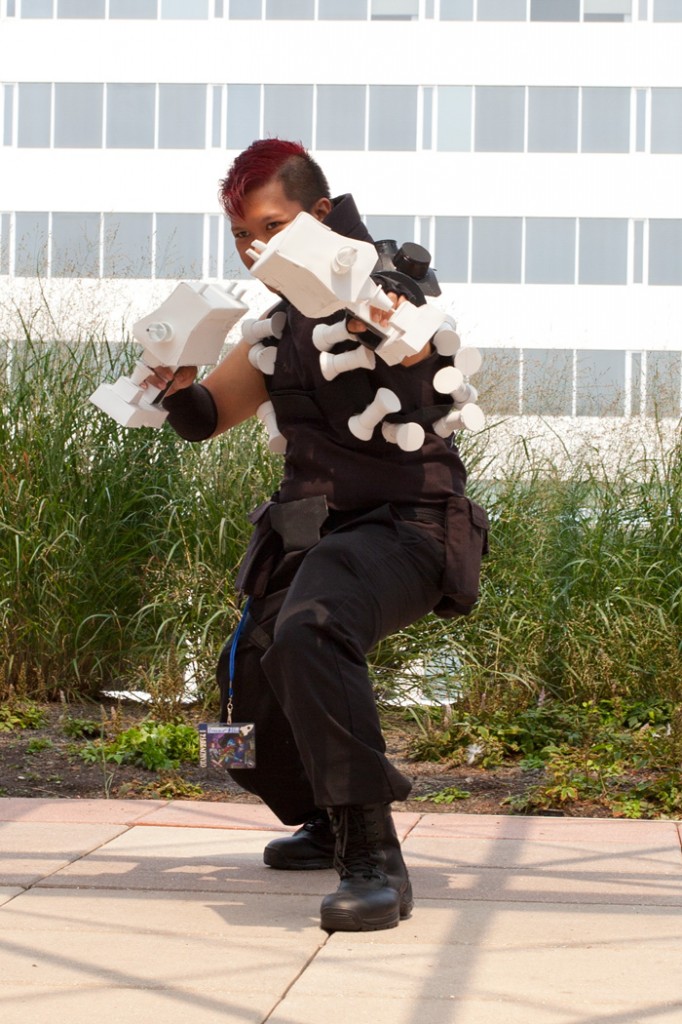 Finally a Tsumugu cosplayer arrives!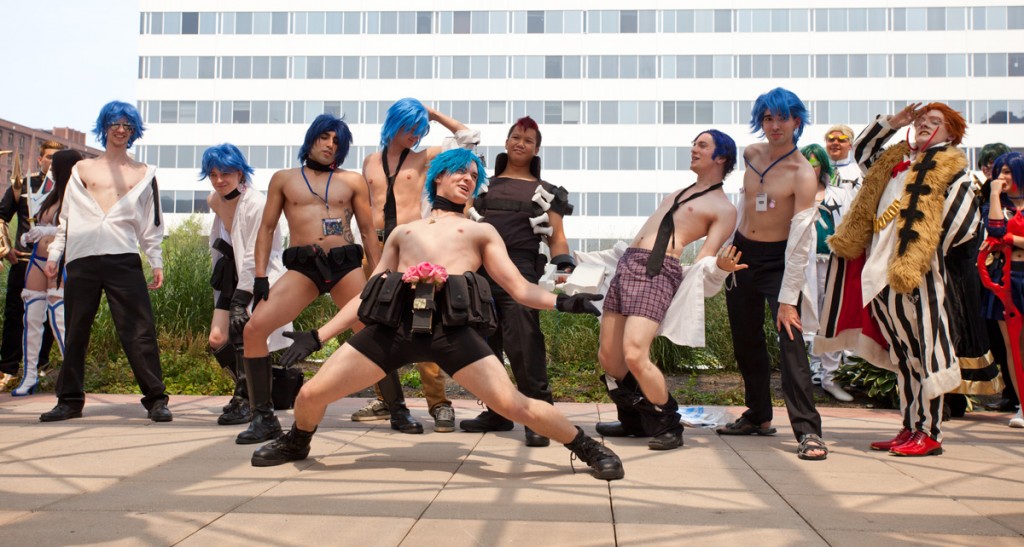 Which means it's time for more NUUUDDESSTOO BEEECH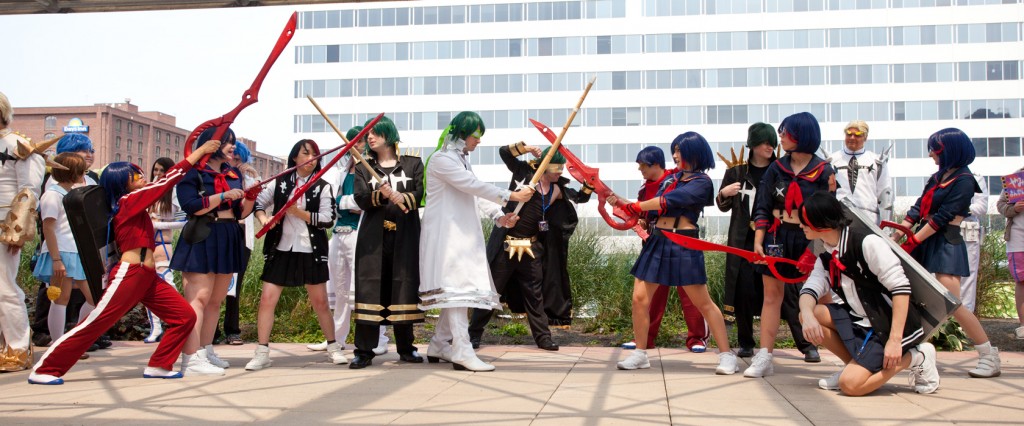 Ryuko vs Sanageyama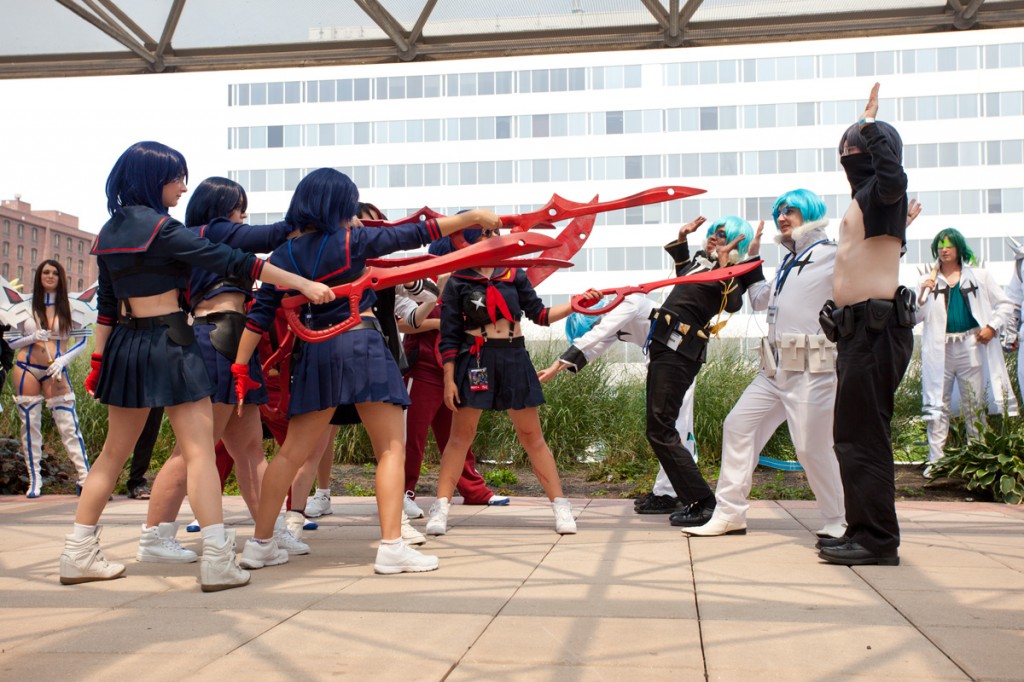 Ryuko vs Inumuta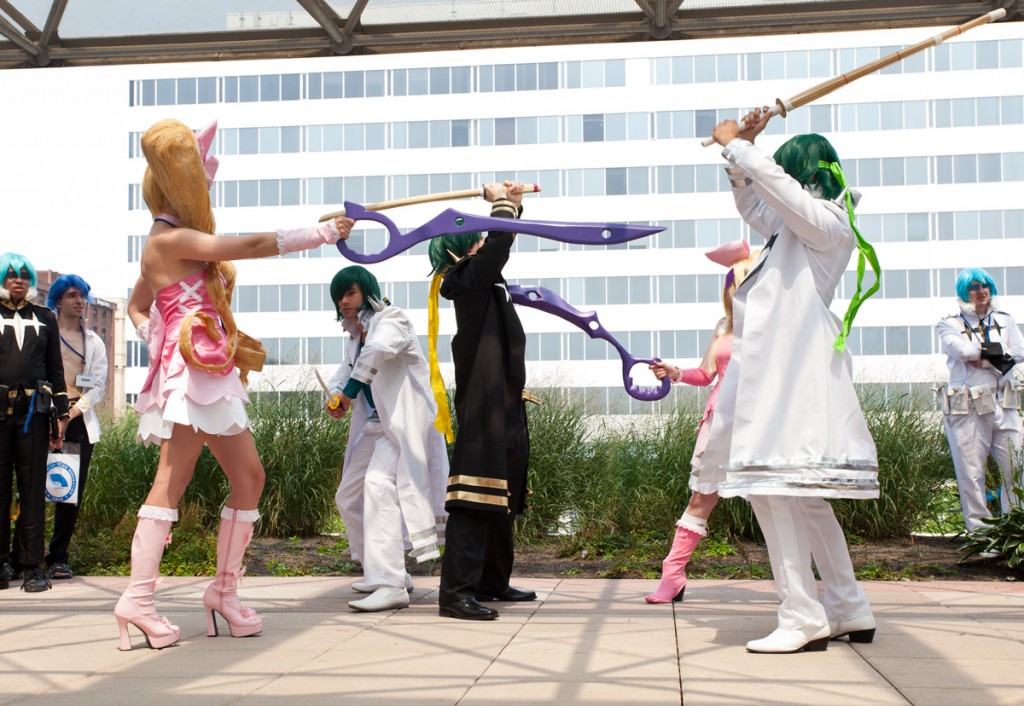 Sanageyama vs Nui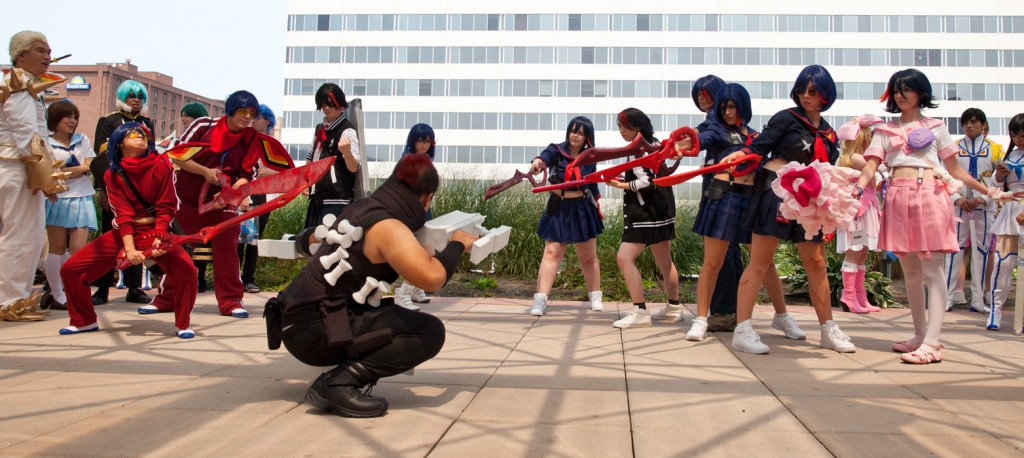 Looks like Tsumugu is outnumbered!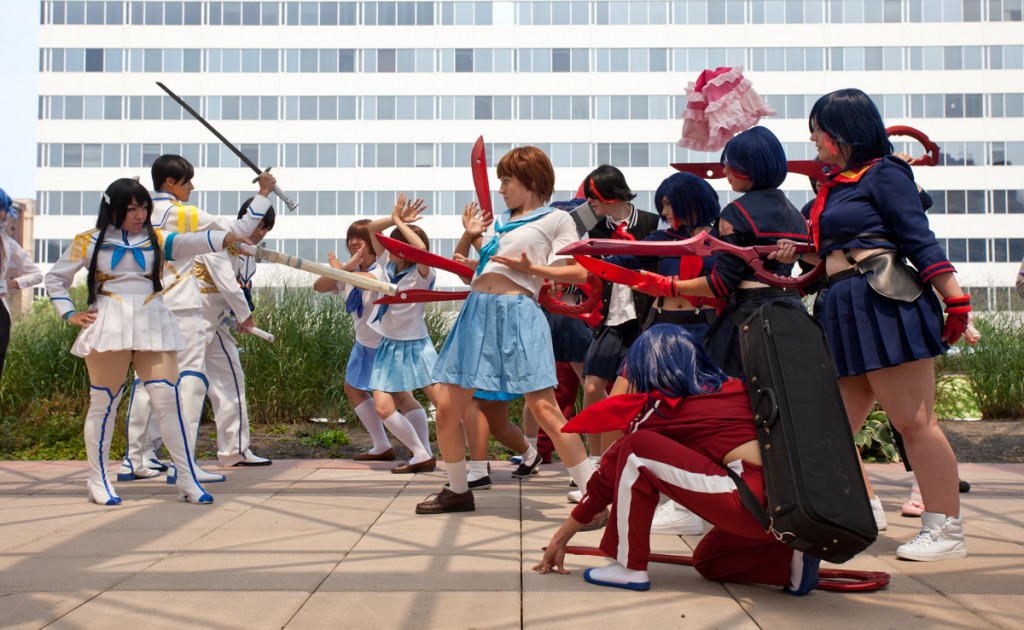 Mako: "Get naked, Ryuko!"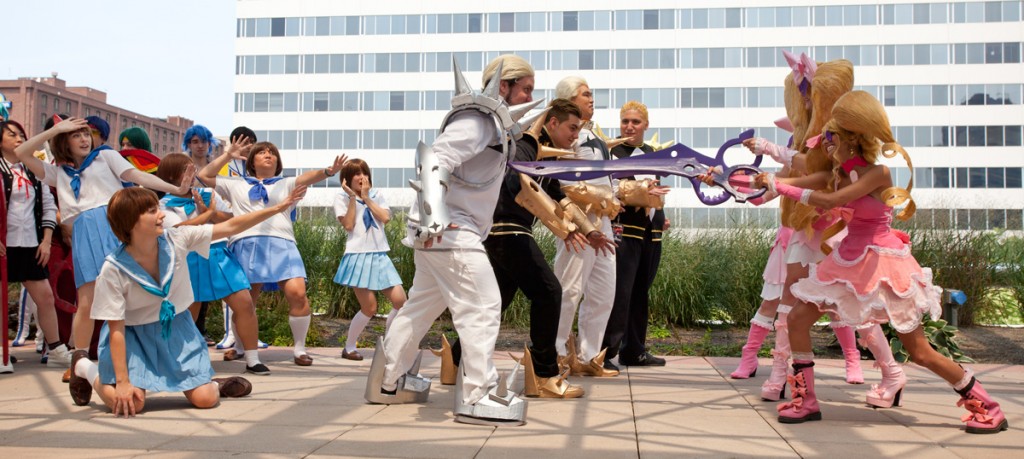 Gamagori protects his precious Mako
Mako cosplay courtesy of: http://mishyz.tumblr.com/ (2nd mako from right)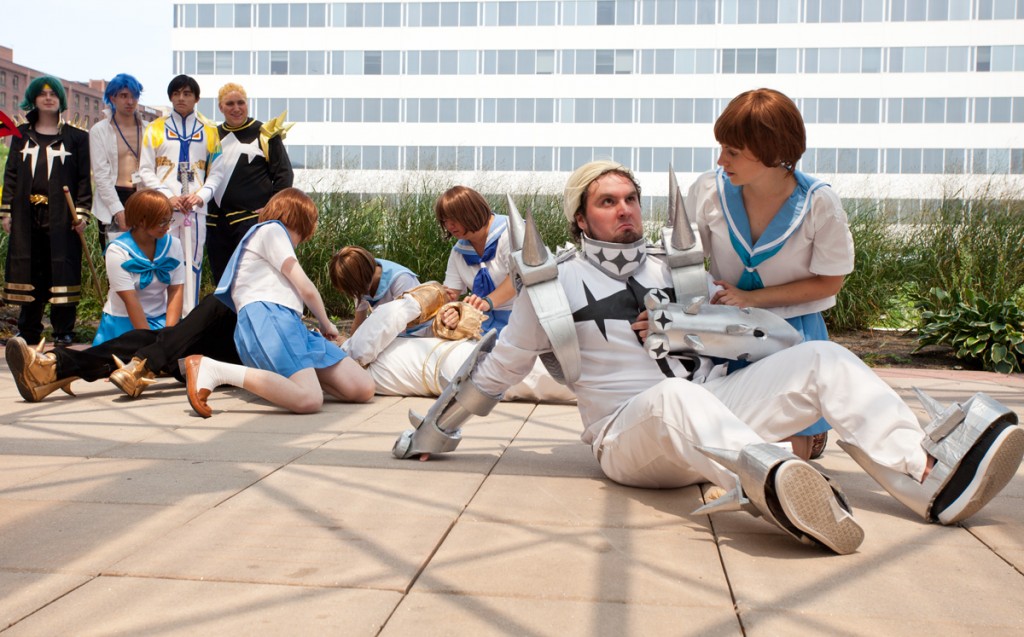 Poor Gamagori ;_;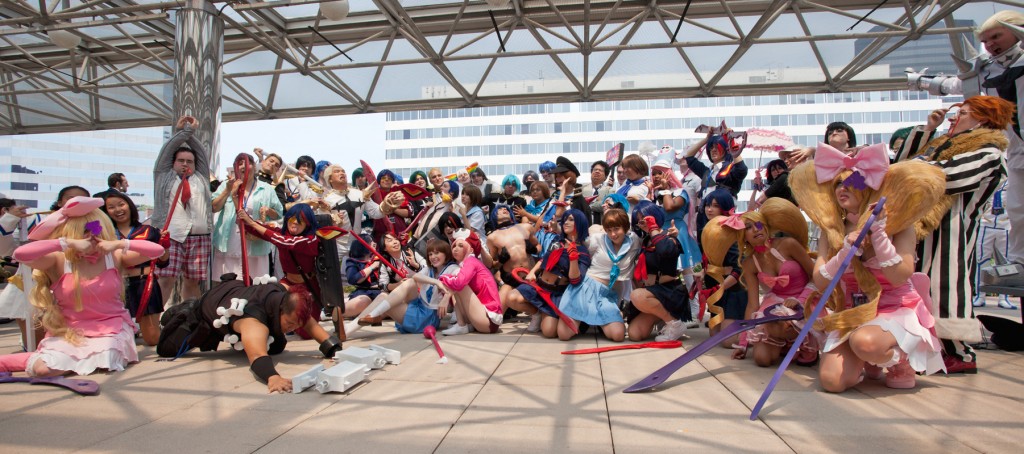 Finally, to wrap it up it's time for a group photo!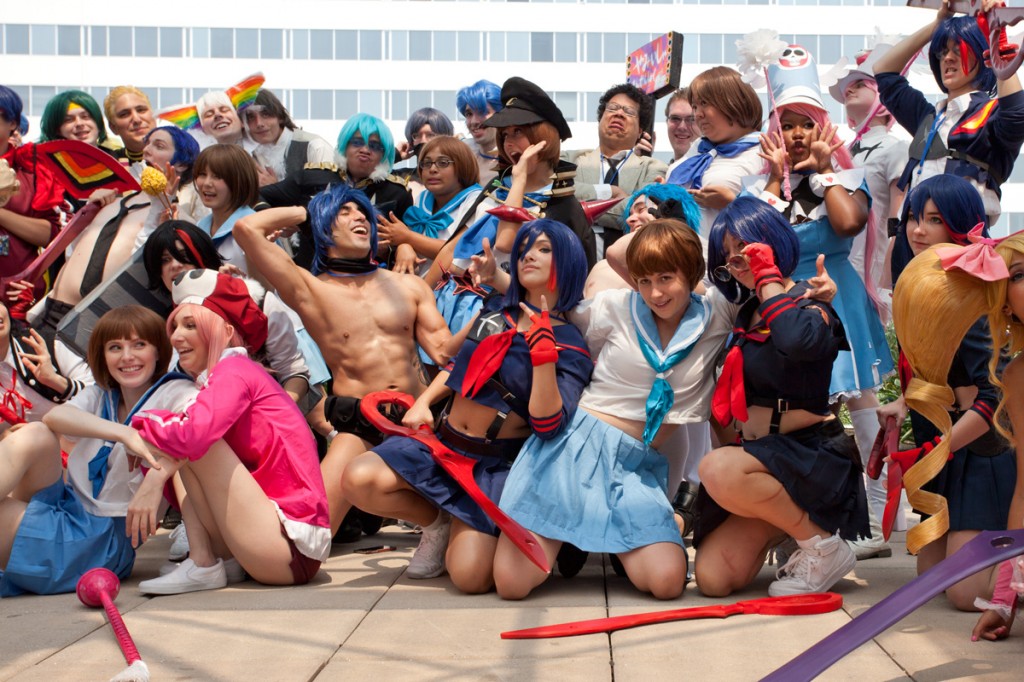 Time for some fun faces!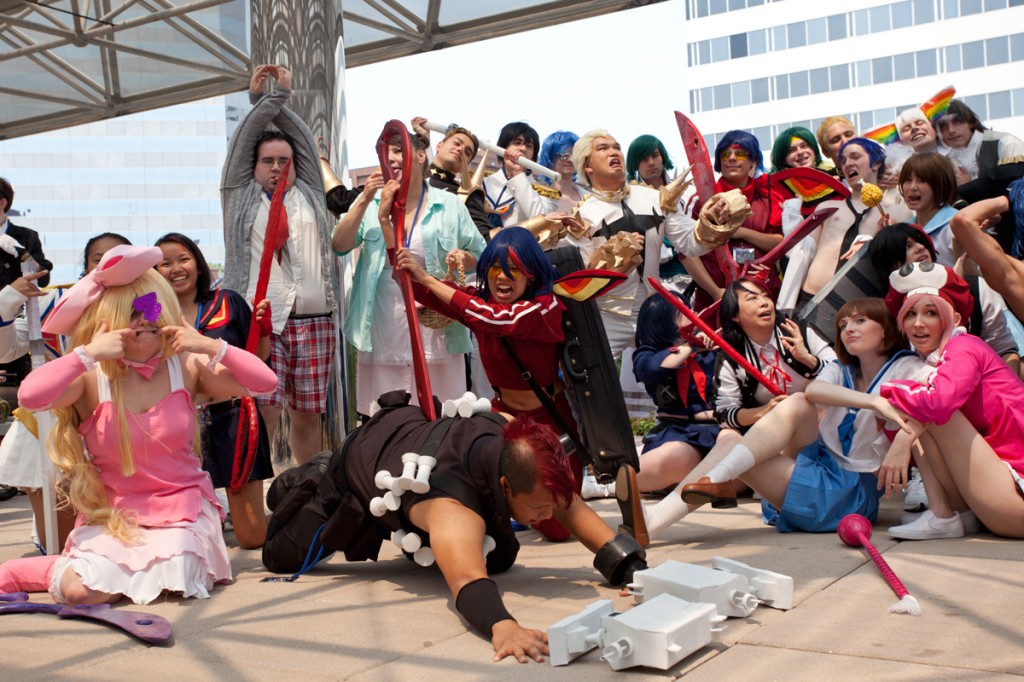 Overall it was a fun photoshoot! Great to see so many Kill la Kill fans in one place.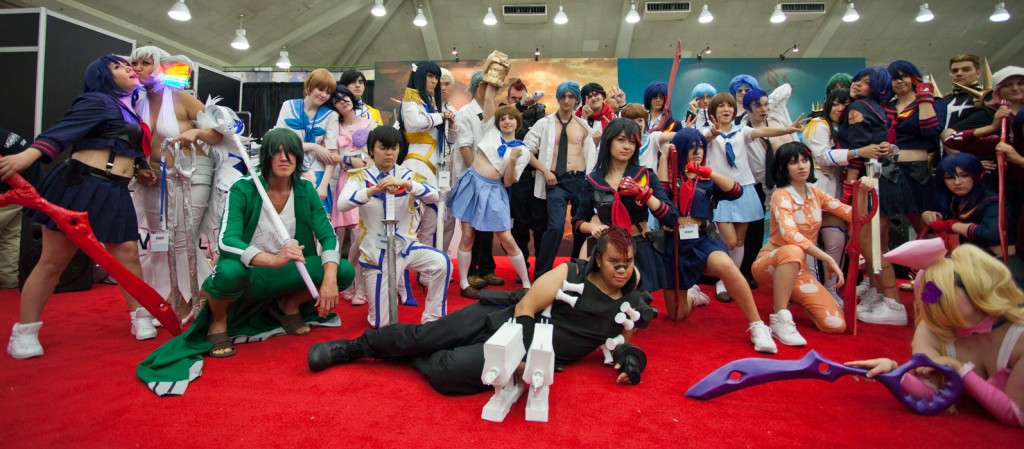 A little later at the Aniplex booth some more cosplayers gather!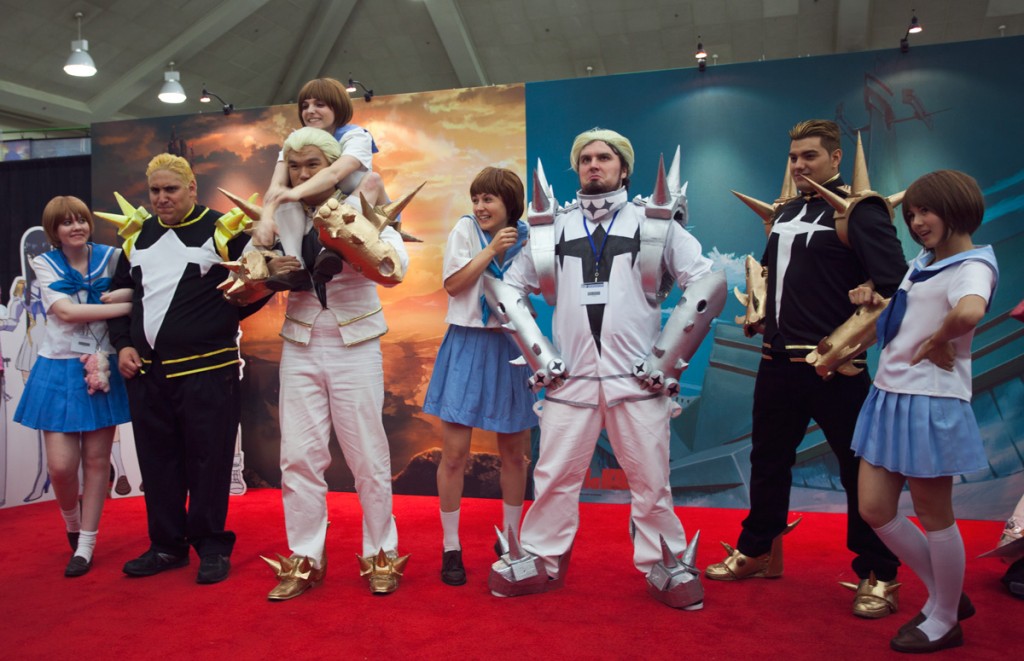 More Mako X Gama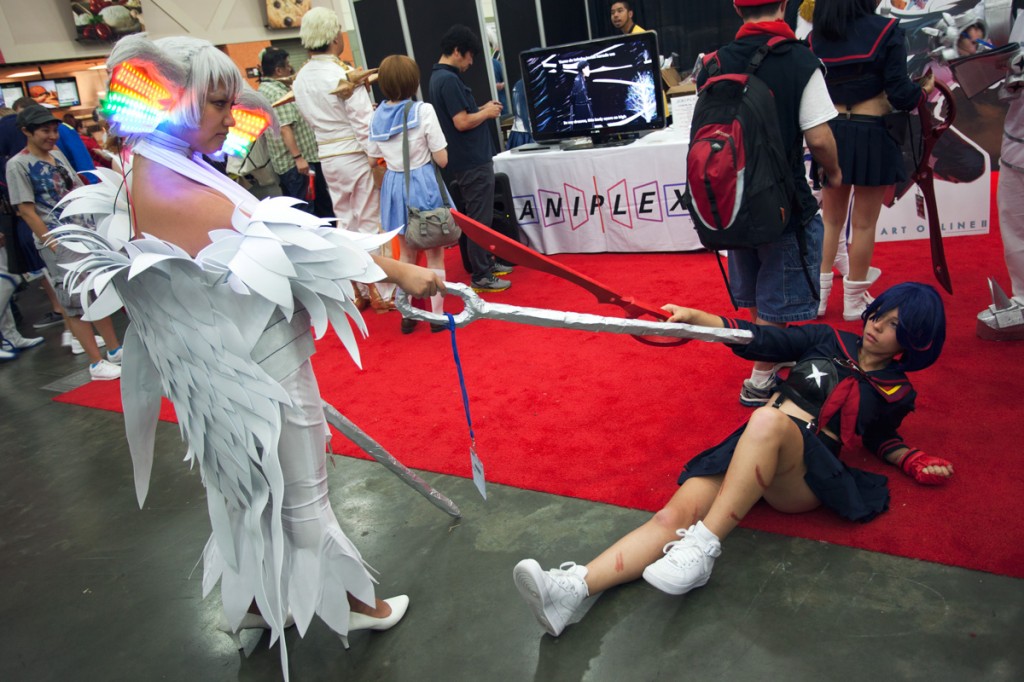 Loved these cosplays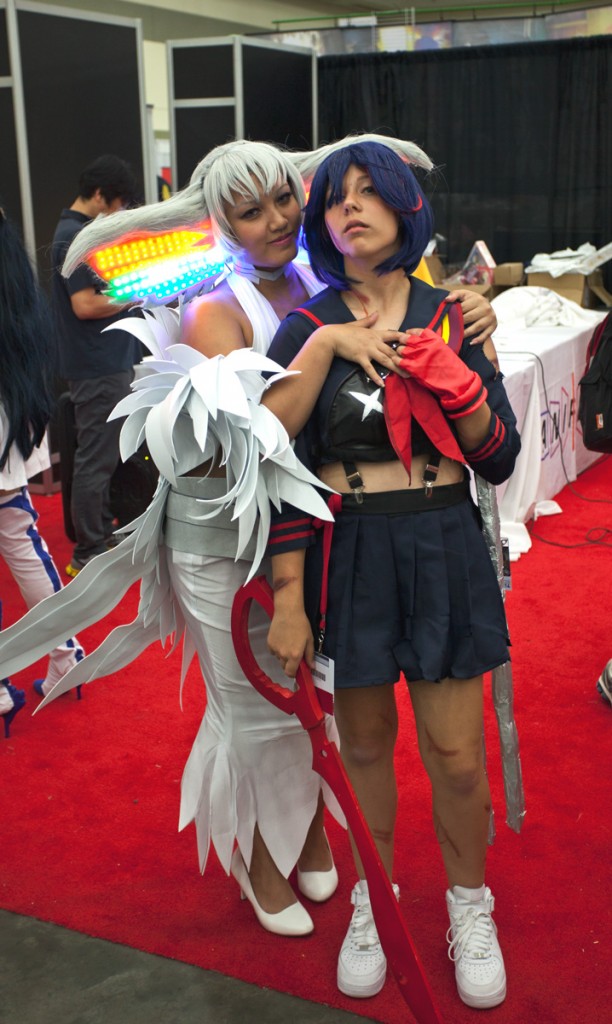 One of the cool events here at Otakon was having the Kill la Kill english dub cast visiting! They had a few panels plus and autograph session at the Aniplex booth. They were really awesome! The Kill la Kill dub is really nicely done, it was a thrill to see it being screened on the big screen for one of their panels.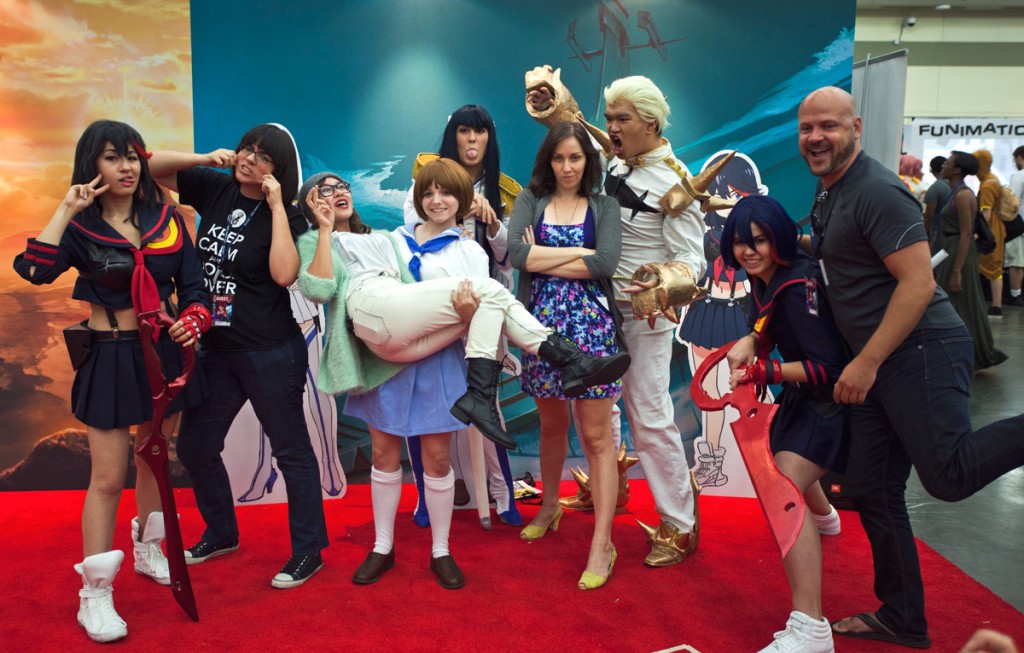 Phew, that was a lot of photos! It was a really fun time here at otakon, especially for all the Kill la Kill cosplayers/fans out there. Hope some of the cosplayers out there can find yourselves in the photos!  I always like to credit cosplayers, so if you see yourself please let me know so I can link up to your cosplay page, site, or whatever!
As always I can provide full resolution photos upon request, just comment or email me at nyotakublog@gmail.com . Cosplayers are always free to use photos for their pages or for personal use, but please don't claim that you are the photographer :). Photos have also been uploaded to my flickr, facebook and tumblr if it's easier for you to view/share that way.
Enjoy!