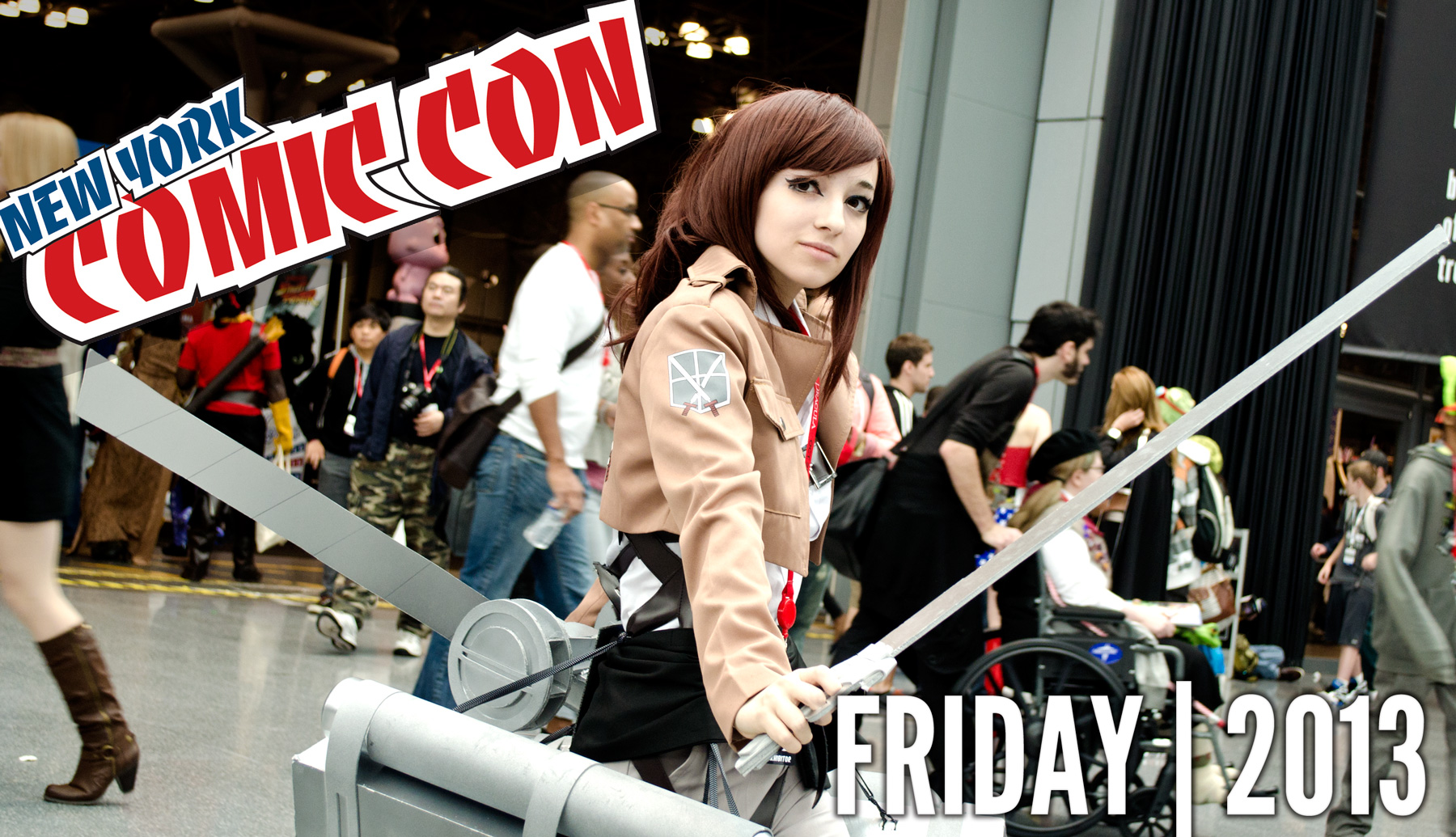 At long last, it's that time of the year! That's right, it's comic con season. Just got back from the convention, sorted through & edited over 200 pictures. So here I'll share some pictures from NYCC 2013 : Friday.
Above photo is of a lovely Sasha Braus cosplay by Ami Fonseca, you can find the photo without the text here.
Going back a few hours, arrive bright and early before they opened only to be greeted with a huge queue! No biggie, it didn't last that long anyway.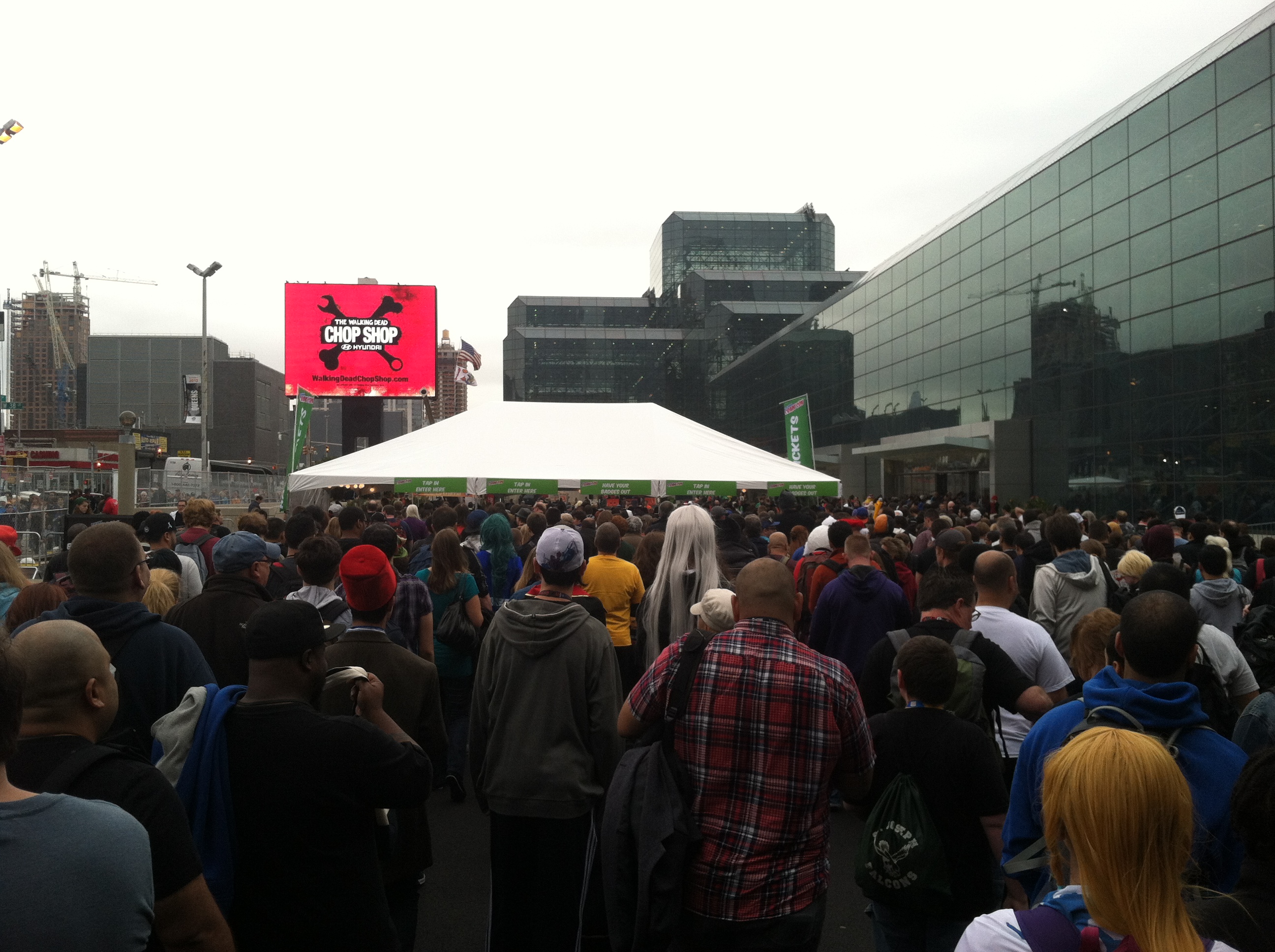 Arriving at the entrance, so many people! Never expected this many to get here this early, but after all Comic Con is serious business.
Main hall filling up rather quickly.
Started off the day with a screening of a Hatsune Miku / VOCALOID concert. CEO of crypton future media gives us an intro.

Good selection of VOCALOID tracks for the screening.
Heading back out to the floor, looks like a visitor from the past!
Was rather excited to find GoodSmile back again this year! Some more photos from their booth below:
Lots of Attack on Titan merchandise on display.
Nendoroids!
Feyris-Nyan!
Homu Homu
Bow down to your master
Walking around 'The Block', Saw some cool artwork that this guy was painting.
Lots of cool iron man figures
Some sort of gaming team I imagine… forget which game they were playing.
Tokyo Otaku Mode had a booth at the show.
This was pretty neat to check out, it's comics that have motion within the panels. Seems like a cool concept.
Cute 2D Girls always help sell things.
Walking around in the lobby to check out some of the cosplayers.
Heading back into the dealers area to check out what anime merc they had. Lots of wallscrolls at this booth.
Also lots of figures. Very tempting to spend lots of money.
Lots of booths selling figures had a good selection of trading figures.
This booth was lewd.
Pretty legit Gundam Cosplay
In case you didn't know I'm a huge TF2 fan, love playing it!
Awesome FMA Cosplay! Some more cosplay below:
Beautiful!
That's a lot of blocks…
Checking out the Daisuki booth, looks like they had a signing going on with Shin Sasaki
Some banpresto Madoka figures
Meanwhile, outside the convention…
Daft punk!
Moving along the convention floor…
Some nice Attack on Titan Cosplay
Attack on titan was pretty popular this year…
These two did a great job with their costumes.
The multiple Attack on Titan cosplayers started to gather together for a group picture.
Quite a few of them as you can see!
Makes for a nice group
Love the cleaning Levi Cosplay
Suddenly, a titan!
Once the SnK group dispersed it was time to look at some other cosplays.
Some awesome Assassin's Creed cosplay.
These costumes were gorgeous. Anyone know which characters they are cosplaying as?
Watamote!
[…]
Cute Dispicable Me Cosplay!
Best cosplay by far!
And on that note, thus ends Day 1 of NYCC 2013! Be sure to check out my photos from Saturday and Sunday convention as well.
You can find all these photos posted with high res on my flickr for those who are interested. If any cosplayers saw their photo here and what a full resolution photo feel free to comment here or email me at peter@nyotaku.com and I'd be happy to give it to you! If you're a cosplayer and see your photo here I'd be happy to credit you, just comment or contact me and I'll add your name!
See you all tomorrow!